Man Overboard!
No one is too small for being worth a rescue!
Online since: 03/04/2008, Number of visits: 314365
The life raft is fitted with a diametrically magnetised rod magnet
S-04-10-DN
on either side and the sailor wears a magnetic disc
S-15-03-N
on his chest and on his back.
When the life raft swims by (within approximately 4cm of the sailor), the sailor is automatically pulled to the raft and attached magnetically to it. The rescue is successful!
Mobile model man
Addition by Paulo Capelo from Portugal:

In order to attach little figurines on a model boat so that they stand securely but are not glued down,

disc magnets 3 x 1 mm

glued on or into the foot of the little man with two-component adhesive work great. Other such magnets can be attached as inconspicuous counterparts on the ship.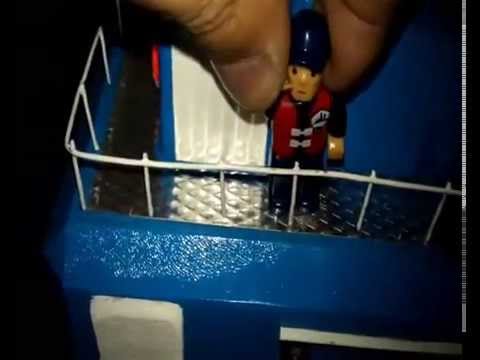 In our online shop, you can find a practical overview of popular magnets for model making:
The entire content of this site is protected by copyright.
Copying the content or using it elsewhere is not permitted without explicit approval.